BUSINESS COMMUNITY BY PROFISEA #DEVOPS4MANAGERS
DevOps for Managers Project
It's time to share professional knowledge and build a strong DevOps Managers community. Time to unite and help each other businesses grow.
We promise quality content and a friendly atmosphere! Just bring your good mood and become an influencer.
Boaz Ziniman
Principal Developer Advocate
at Amazon Web Services
Topic: Cloud Economics for DevOps Managers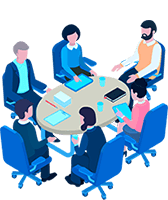 DevOps Round Table
Topic: Cloud Costs Management Challenges and Opportunities
Register to join DevOps4Managers project!
You will receive a personal invitations to all the DevOps4Managers activities
Overview
This DevOps 4 Managers project aims to unite DevOps managers and sponsors and become a robust platform for regular knowledge sharing, capacity-building and networking. As a part of the community building we're going to hold recurrent meetups to discuss the most trending and hottest topics in DevOps such as Continuous Integration and Deployment, Microservices, Cloud Computing, Big Data, Machine Learning, QA Automation, Security, Monitoring, DevOps and Release Governance and Application Lifecycle Management. The meetup will be at first online and later on face2face (when the quarantine is finally over).
We want to create a community of inspiring people who are driving  the power of DevOps. Our main focus is on addressing the challenges and opportunities that SMB and enterprises DevOps and Development Managers are facing when adopting and integrating DevOps practices. As a member of DevOps 4 Managers project you will receive invitations to the meetups, you will be able to share your insights and experience and to suggest the topics and themes of each meeting . Discussions at the end of each meetup and via offline communication channels will allow everyone to share their thoughts, ask questions and express their opinion. You will be able to have a focused discussions, joint operations and simply have fun with your allies from other organizations, 
Why DevOps for Managers? 
DevOps Manager role is super strategic for every company as DevOps  tools and practices are fundamentally changing the way of work and can be a competitive advantage or pain point for company's business. However, along with huge amount of knowledge available for DevOps engineers there is very few information shared regarding the managerial aspects of DevOps discipline,
How do we change organisational  mindset? What is the DevOps tools ROI? When we actually need to adopt paid services and tools and when the free edition is just enough? How we measure our success? How to choose Cloud platform, technology stack, monitoring solution that are just right for us? Thousands of dillemas and decisions that DevOps managers make every week with no structured information that can help to deal with the fast pace of the innovation .
Especially now, when the world is in turbulence let's change the situation for the better together!
When: Meetup Events will be held biweekly
Where: During quarantine – online, after all the corona thing will be finally over – we will organize physical events in Israel.
Project's Agenda: Sharing our in-depth knowledge and expertise in DevOps among DevOps managers and sponsors. Let participants learn and benefit from each other's experiences and grow their business networks.
Target Audience: Events are held exclusively for DevOps managers and sponsors.
Events Format: Free attendance, invite-only.
Events Duration: Hour and a half.
Language:The community will be operated in Hebrew.
The Upcoming Meetup Starts in
Register to join DevOps4Managers project!
You will receive a personal invitations to all the DevOps4Managers activities
Speakers and topics of next meetups
David Virtser
Head of Infrastructure
at Monday.com
Topic: How we do DevOps
Roman Ostrovsky
DevOps Manager at Bank Discount
Topic: Breaking down silos
Tovy Yanne
Solutions Engineer at F5 Networks
Topic: F5 in cloud environments
Zohar Orad
CTO at Quicklizard
Topic: How we do DevOps
Maor Ben Aroosh
DevOps Manager ar Allot
Topic: How we do DevOps
Eager to share your knowledge?
Add your name to the speakers list ! Become Influencer!
Do you want to see how it was?
More than 40 hours of useful information with leaders of DevOps industry.
About ProfiSea
We help our partners scale their businesses seamlessly and tackle any challenge related to DevOps and Cloud infrastructures. Our experts apply the best digital tools and Agile methodologies to boost the productivity and high-performance of their teams. Utilizing our extensive DevOps expertise, our clients keep being a step ahead of their competitors.